COMPILED BY SIMA SADYKHOV AND DAVID GETCHELL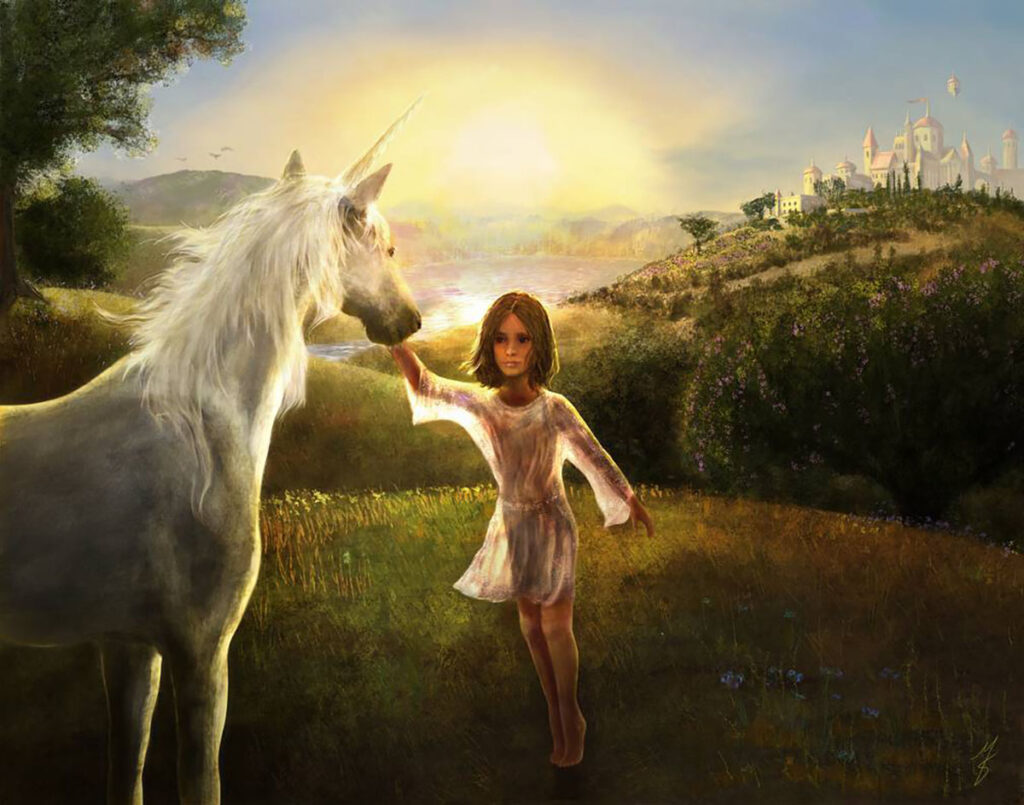 Befriending a Unicorn by Matt Sorrentino. See Matt's story below.
American Dancer sent out a notice asking members how they used their time while unable to pursue their normal competitive or social dancing.  We heard from quite a few of you and were surprised at the range of activities represented.  We have collected some of those below.  If you are interested in keeping this going for another issue, send your submissions here.  We request you send one picture or video and limit your story to 100 words or less.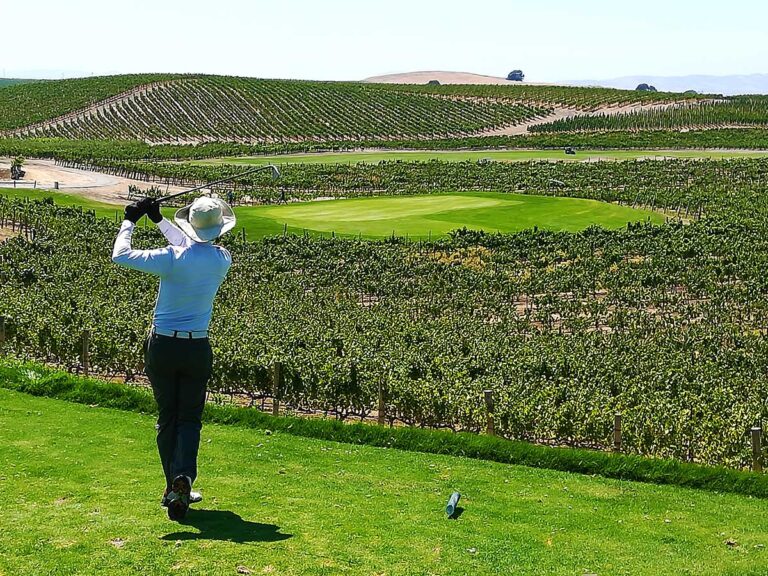 Jon Chow of the NorCal chapter: "I stopped playing golf and did not touch my clubs for five years to devote more time and energy to dancing.  I thought I would never play again.  But when competition dancing stopped due to the virus, I started playing again.  To my surprise, I actually play better now than ever before — maybe the movement techniques and balance I learned from dancing carries over to golf."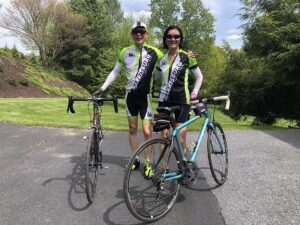 Mike and Ann from Central Pennsylvania say:  "My wife and I have been avid ballroom dancers for well over a decade. We take lessons regularly and attend many social dances and, of course, USA Dance chapter events.  When lockdown started in March, our dance studio no longer had in-person dances.  But the owner quickly put on free Zoom dance events on a weekly basis during the Summer months and many of us joined.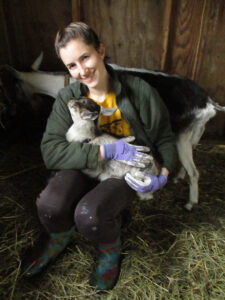 "My name is Erica Lawler.  I am a member of the Tri-Cities USA Dance Chapter #6060 and live outside of Richmond, Virginia.  I've spent a lot more time with my dairy goat herd this year as a result of the pandemic.  Goats aren't much for dancing, but they are very lively!  In tough times, there's nothing so uplifting as a group of spring kids frolicking and leaping off of every surface in sight.  I took advantage of the extra time at home by learning how to make two new cheeses this summer: feta and mozzarella.  Our chapter usually serves refreshments at our dances so perhaps when we're all back together on the dance floor, there will be some homemade cheese over on the snack table!"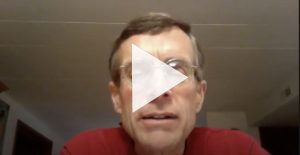 Rod and Ann Hart have hunkered down and are trying to weather the virus storm.  "We occasionally push the furniture around and practice dance steps in our living room.  I (as you will see in the video) hunt for focus groups to serve on, increase my volunteer work at a local food bank, or try to find projects to do as in this video that I'm making for my electric company."
Julia and Bill Wacker
Fishers, IN
Heartland, Carmel Dance Studio, Carmel, Indiana
"Dancing keeps us in shape for skiing, and skiing for dancing; walking 1.5 – 2 miles five times per week is a big help in allowing us to do both!
"Thanks to Roger and Amy, and all other USA and Heartland officers and volunteers for your work!  Bah Humbug to the virus, Merry Christmas and a healthy New Year to all!"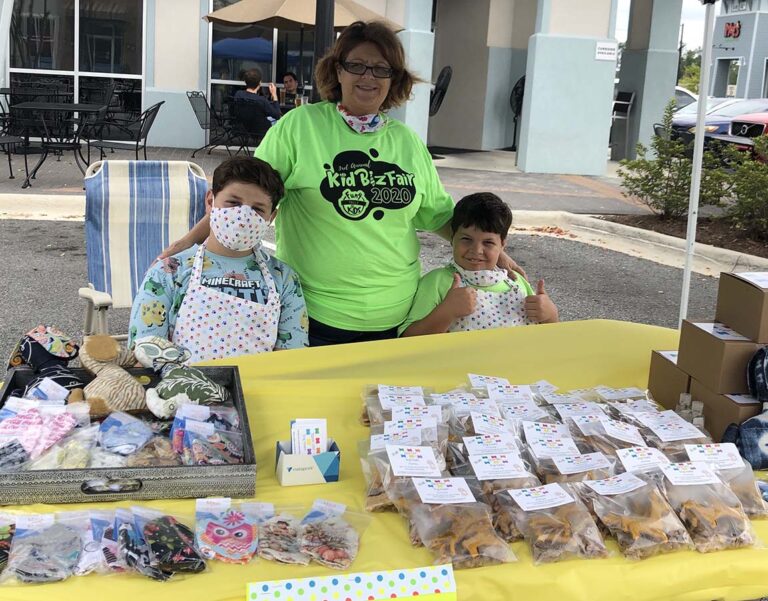 Lolita Brawner, president of chapter #6010, sends this story.
From Dancing to Puppy Love!
Written by Rebecca Kelley-Fournier
Tallahassee Chapter 6010 and Chapter 6010 Kidz has two young men, Jacob and Zachary Fournier, ages 9 and 11, respectively, who have embraced the ballroom dance life.  Eager to dance the night away with ladies, young and old.  Bringing smiles to faces with every dance step.  But with COVID, virtual school, and dance coming to a screeching halt, they wanted to do something for their community and to keep busy.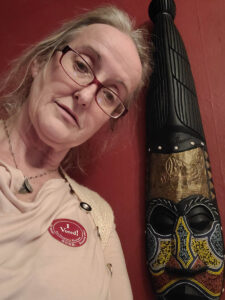 "I'm Lisa-Anice Sutphen the lead and founder of Dance and Fitness Concepts and a USA Dance Member from the San Francisco Bay Area. 
"I managed to switch a number of clients online for Restorative Training, and that's kept up with basic bills.  We'll be starting classes in Dance Technique, yoga, Pilates, and chair fitness in January.  Gotta get rid of those COVID pounds!"
From Gokturk Yurtyapan of the Seattle Chapter: "I always loved the sheer joy of wind that blows through my hair and the immediate, pure happiness I feel speeding, gliding on a small piece of board under my feet.  I loved Snowboarding!  It was fun, it was outdoors, it helped me to discover new places and the joy of being fast.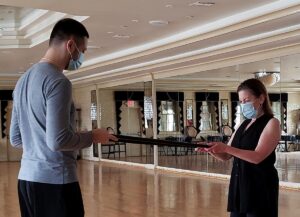 Ken Richards writes: "When the pandemic closed the BlueBallRoom in Wilmington, Delaware, Johny Postolachi, professional member of USA Dance, kept his students engaged with weekly Zoom lessons.  He even pulled a number of them together to produce a solo-formation video, to the Aretha Franklin song, "Who's Zooming Who".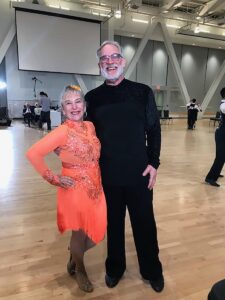 Karen and Gary from Portland, Oregon – "We are a couple in our mid-60s.  We took our first dance steps, under our beloved coach Anya Klimova-Preston, in our early 50s and competed joyfully in standard and Latin for 15 yrs.  We retired just over a year ago and began learning to social dance.  We took bachata and salsa at a Portland studio and asked the instructor, Eugene Yeboah, for private lessons. COVID hit, the studio closed, and we worked at staying outside as much as possible. Why not dance in the park? Eugene liked the idea and had a dance mat.  Over the summer and into the fall, we danced in a local park relearning most of our Latin and standard dances for social settings on small floors.  We were able to move our furniture around, in our small living room, so we have a practice floor.  Dancing has been an amazing journey in our lives, working together, bringing joy, keeping us active and keeping our spirits up during these difficult times."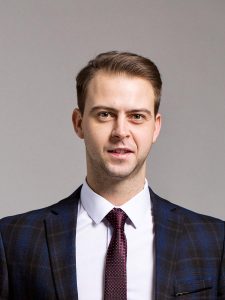 Professional member Kyrylo Kapustinskyi of Richmond Virgina tells us, "I so passionately teach people how to dance, and during this time of COVID pandemic it has increased even more. From March 2020 I saw how people were scared, unsure, lost, confused and unmotivated. For me it was not easy, but I started to provide people with complimentary introductory ONLINE Ballroom dance lessons by Zoom app, Facebook messenger, etc. It was very new for everybody. I greatly improved my skills of teaching without contact and learned new technologies. People of different ages were so impressed that they were able to connect & learn how to dance by staying at home safe."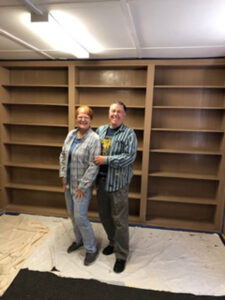 This note came in from Senior IV DanceSport Athletes Ron and Carol Magee, from Kansas City:
"The Magee's have been keeping busy doing projects at our Church during COVID.  Ron built these lovely bookshelves with my supervision, along with my help painting.  We also were outside walking to help with our sanity."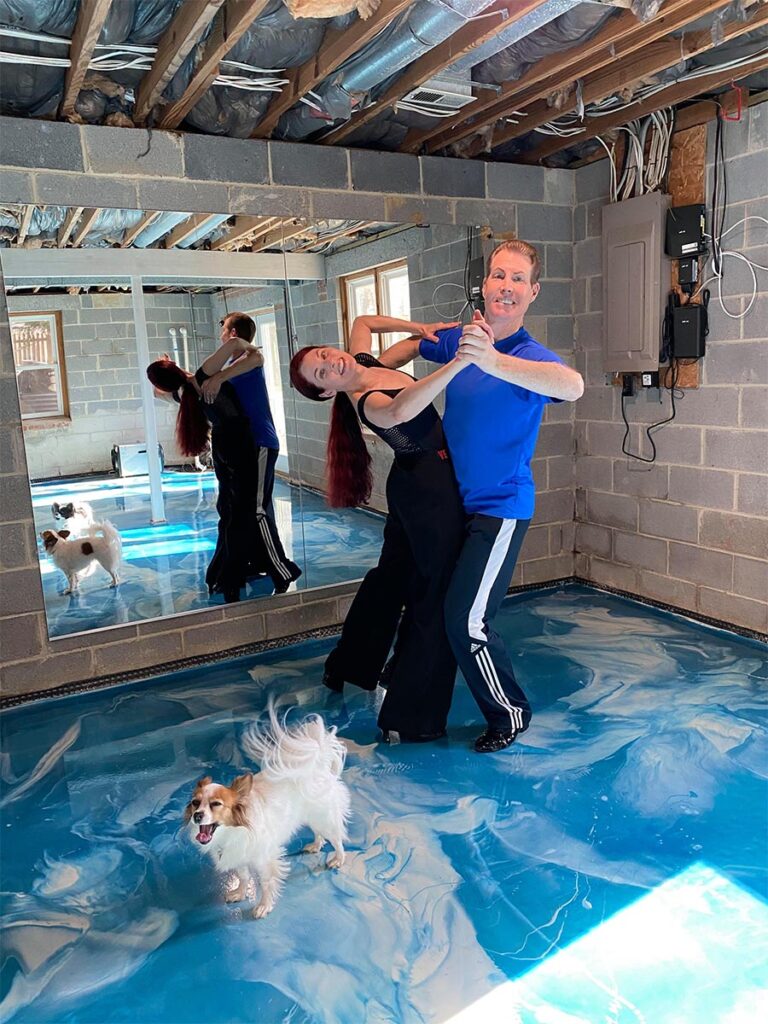 Senior III competitors Mike and Rose-Ann Lynch (MidAtlantic Chapter) wasted no time finding a dance space during the pandemic.  They cleared the basement and put in a metallic epoxy floor with mirrors, so they could practice. "It is the next-best thing to a studio, and we can dance whenever we want. We also remain active and consistent in our daily routine: walking the dogs, running, and good-old-fashioned Marine Corps sit-ups and push-ups."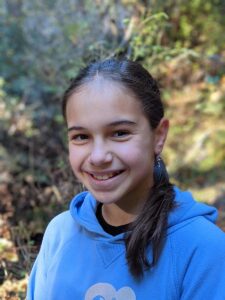 "My name is Raya Ilieva and I'm eleven years old.  I love dancing, writing, reading, and spending time outdoors.  I'm a competitive ballroom dancer, and since my dance partner is fourteen, we compete in Junior II (although technically I should be in Preteen II).  My mom is Ellie Pojarska.  I live in Belmont, CA, but dance at Dance Vita Ballroom in San Mateo.  In the spring, for a few months the studio was completely closed and we were conducting lessons via Zoom. Here's a piece I wrote entitled, "Dancing During Quarantine"
Gil and Jan Berenguer of the Charleston Chapter told us:  "My wife and I live outside of Charleston in a 55-and-up community.  We are fortunate that the community has a dance floor.  Since the community has not been having social dances we have been able to use the floor for practice.  We also found an online ballroom dance class.  We can honestly say we have danced more since the pandemic than before it happened.  Our dance club has since opened up the floor for rental, so we have also been going there.  That being said, we do miss the the social part of dancing and hope to an end to this pandemic.  Hope everyone is safe and practicing social distancing."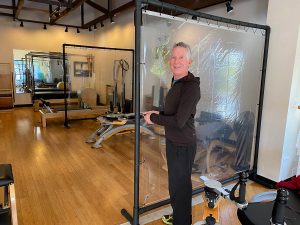 David Getchell retired from 28 years at Cisco Systems Inc. and went to work for his wife doing maintenance on her Pilates and Gyrotonic equipment, as well as repairing the floor, so that it could be used for dance practice.  As COVID restrictions started to be lifted, he created partitions to help isolate the areas of the studio.
Na and Ivan Parra of the NorCal chapter said of their son: 
"We are grateful that, in this very special year, Peter could continue to grow and improve in the fascinating world of music, dance, math, and most importantly partnership and friendship.
Peter thoroughly enjoyed his journey at San Francisco Conservatory of Music Pre-College and was beyond fortunate to have Isabella Moudry as his dance partner. This pair worked hard and we are truly proud of their dedication, persistence, and genuine support for each other."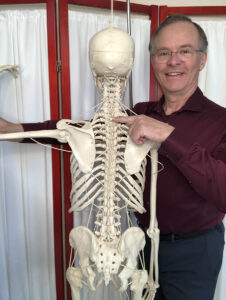 Mark Lichtenberger of Greensboro, NC  is a Sr III competitive dancer and social dancer, who has served as a Carolina Heartland, USA Dance Chapter #6092 board member since 2016.  The local USA Dance monthly and annual dance events were suspended early in 2020 with hopes to resume sometime in 2021.   The monthly newsletter continues to highlight member's activities as a way to stay in touch with dance friends.
Clifford Arnold of Charlottesville, Virginia writes: "In the swimming pool, I can practice several drills I have learned for bodywork in my on-line private dance lessons. With the chemicals in the pool, I am supposedly protected from COVID-19, so this cross training activity is safe."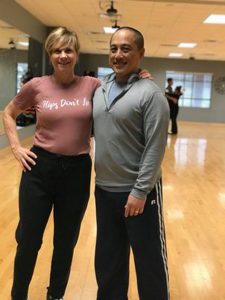 When life hands you a lemon, make lemon-aid.  After exhausting every non-surgical method for managing advanced osteo-arthritis in both hips over the last five years, Antoinette Datoc (Greater Atlanta Chapter # 6005) decided to use the pandemic-related suspension in dance competitions to undergo bilateral hip replacement surgery on October 16 and December 29.
Hips Don't Lie!
When asked if he had taken up some new activity during the pandemic, Alexandru Munteanu said: "Yes, I got into video making and video editing.  I have made already over 20 commercials and Jani's showcase that was 30 minutes long, and I am proud of it.  COVID times definitely made me appreciate the things I have and the people around me more than I had before, and I got to spend more time with my close ones than I could have otherwise."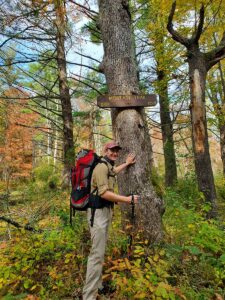 In his plentiful free time due to COVID quarantine, Donovan Kirrane picked up shoe shining and shoe restoration as a way to keep busy and get creative!  To stay physically fit and COVID safe, Donovan and his partner Olga endeavored the Massachusetts Midstate Trail. They hiked 57.7 miles leaving only 31 to go in the next season!
Alan Burns: "The pandemic didn't affect me directly until March 2020.  Until that time, I was actively dancing and competing in the United States and Europe.  When the pandemic and stay-at-home orders hit, I suddenly had a lot of open weekends on my schedule, and that gave me an opportunity to expand a hobby I had recently started."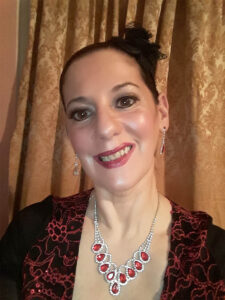 From Fancesca Fortunato of New York City, "I'm a new member of USA Dance. Joining was an act of faith and hope, for my future as a DanceSport athlete.  I live in New York City and compete at Silver level (senior C) in Standard.  Before COVID, I was taking group classes and privates with independent teachers at Ballroom Hub, a rental space for Ballroom students and teachers in Manhattan.  I had just done my first amateur competition in May of 2019, partnered by a higher-level amateur teacher (Sam Wert).  I was excited about continuing in the Amateur Ballroom World."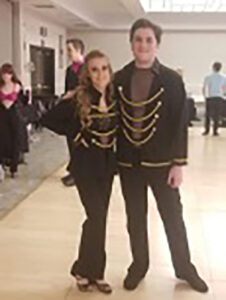 Lisa Sandoval from the Los Angeles Chapter writes: "My 17-year-old son Cory and his best friend Heidi Young (both members of our high school dance team) have continued to make it work.  They meet their talented West Coast Swing dance partners, who live in Arizona, at the halfway mark in Redlands, CA (home of the Schwimmer's Dance Center) to continue to practice and move forward.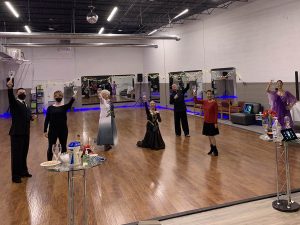 USA Dance member, Lilian Paternostre writes:
" I received a phone call in May:  "Hi, are you interested in taking over the studio?"  I was completely blanking.  "What?  How?  What do you mean?"  My good old dance studio, where my husband and I started 10 years ago, and which has been our happy place, safe-haven, and where I discovered my passion for dance, was possibly endangered — a victim of the COVID pandemic?  It took me but a few seconds to decide to do whatever possible for its continuation!
Like this page? Share it with your friends.