BY ROSE-ANN LYNCH AND ALLA ZEMLYAK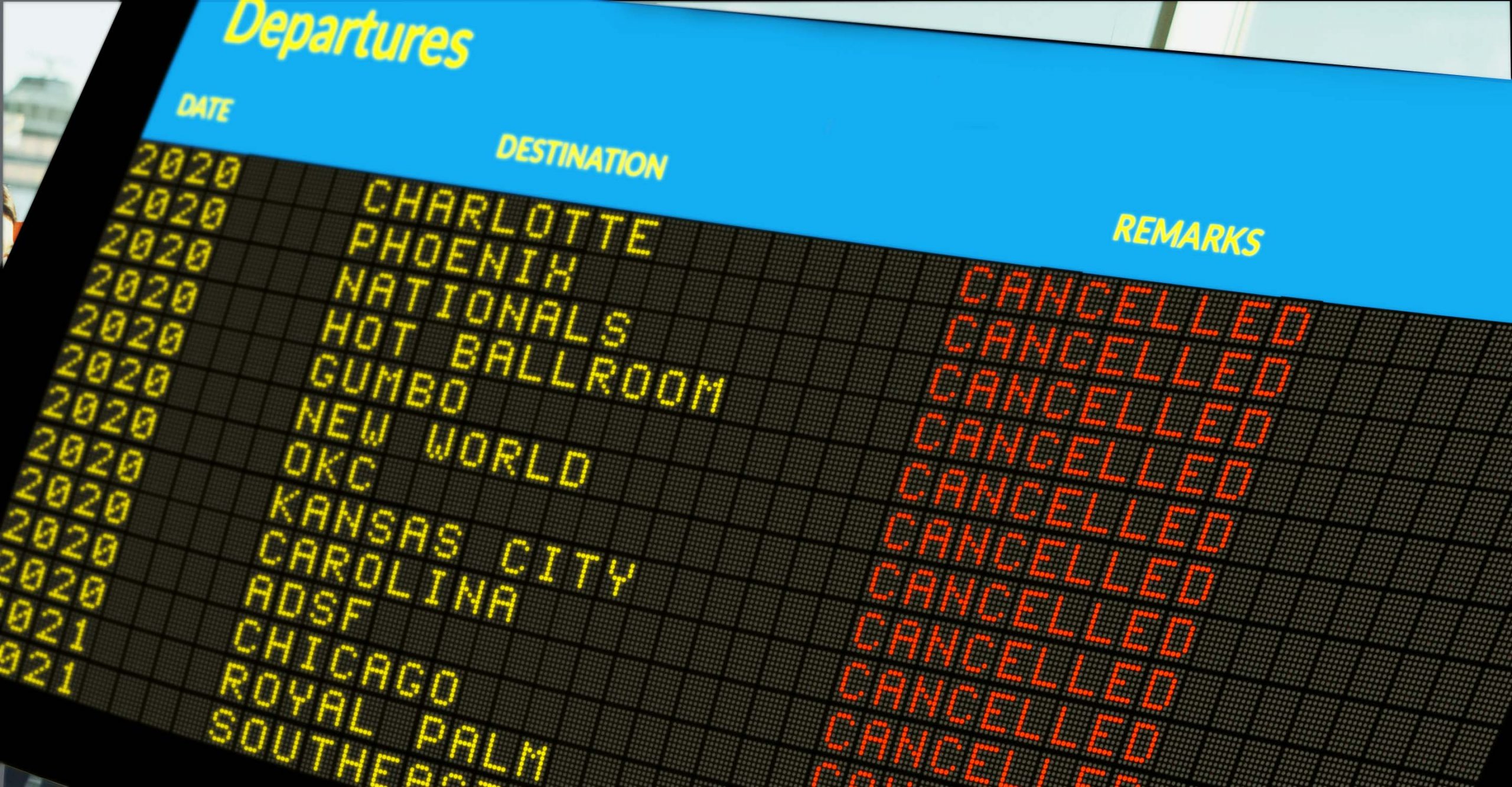 Image courtesy of David Getchell
A dance competition is put together and held by a community of people:  organizers, sponsoring chapters, officials, scrutineers, vendors, dancers, spectators, supporters, volunteers, volunteers, volunteers, and the list goes on.  The cancellation of an event is devastating.
"We were feeling on top of the world," said well-known competition organizer and adjudicator Wayne Crowder, when going through his memories of the Southeastern Championships last February.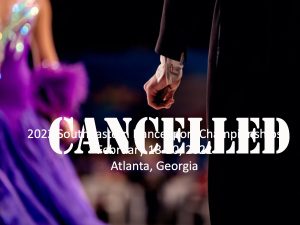 He recalled rushing through the busy streets of Atlanta to get to the competition, while the word "coronavirus" was slowly trickling in through the air, sounding very foreign and remote.  Just a few weeks later, lives were infinitely changed.  Since then, the world has been a different place.
"You know, for some couples this year could have been their last chance to win the youth title before moving on to the adult category," said fellow-organizer and adjudicator Marie Crowder.  It would have been the historical second year for the Smooth World with the largest International turnout so far.  Couples from China, Russia, Ukraine, and other countries were eagerly preparing to come to Atlanta.  Unfortunately, the Southeastern Championships will not take place this February and neither will the Smooth Worlds.
However, Wayne Crowder remains very skeptical about the prospects for 2021.  "I just don't see how we could run it safely.  With the widespread vaccination still likely months away, we are looking at the fall, possibly summer, to resume competitions." 
Many have wondered how future competitions might be conducted.  Perhaps all the competitors could be tested for COVID-19 before allowing them to participate, although the practicality and usefulness of this approach is questionable.  The test would only show that one does not have a detectable infection at the time of the test.  Unfortunately, the possibilities of contracting an infection, during an event that involves traveling and coming in contact with a large number of people, are endless.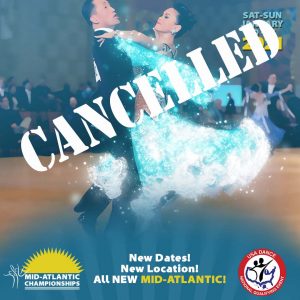 Jack Reinhold, the president of the Mid-Atlantic chapter and organizer of the Mid-Atlantic National Qualifying Event (NQE) echoed the same sentiment.  The news that the Mid-Atlantic Championships would not take place in 2021 was one of the last disappointments of the fading away 2020 year.  When asked whether he thought there was any way to run Mid-Atlantic safely, there was not much hesitation, "If somebody gets sick and dies after attending this competition, how are we going to live with this?"
The cancellation of many 2020-2021 competitions could have had a monumental affect on those whose livelihood is dependent on these events.  However, USA Dance-supporting vendors proved themselves to be both innovative and adaptable during the time of COVID-19. 
Luis and Dilandia Rivera, who comprise the New York City-based team of Designs by Riveras, found themselves with an interesting dilemma in February 2020.  Well-known on the USA Dance competition circuit, these talented artists pride themselves in providing exquisite hair and makeup services for the ladies of the ballroom.  They can be found as early as 4:00 on any competition morning, working to make each customer look and feel his or her best as they prepare to take the floor.
Having just completed the USA Dance Mid-Atlantic Championships, in February, the team was preparing for a busy few months with the approaching Charlotte Star Ball, USA Dance Nationals, and the Blackpool Dance Festival.  Their milestone plans involved expanding their business and buying a new home.  Then the COVID-19 restrictions started coming through and New York State, an early hotspot, was locked down by its governor. 
"At first, we proactively called our customers and asked them if they were cancelling," said Luis Rivera.  Most were still making plans to attend their competitions and hoping for services.  "Then Andrea Zaramella sent an email and Charlotte Star Ball was cancelled."  After that, "everyone cancelled in one week…It was like the Twilight Zone!"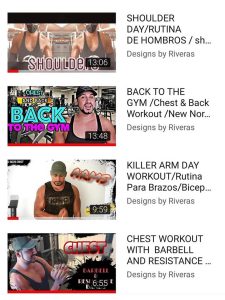 Like so many, they thought the restrictions would last a few weeks, but quarantine extended into a month and then two, and the couple knew they had to take action to prepare for the long haul.  Luis said, "I'm from a third world country; we never say we can't do it!"  In a previous life, he had run one of the largest dance companies in his "native" Honduras, and still had costumes and equipment in storage.  They quickly organized the items and opened an online store to generate revenue.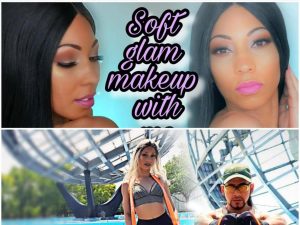 Recognizing the need to stay in touch with their customers, they also created YouTube segments, which included hair and makeup tutorials, product reviews, skin care tips, and physical fitness.  Soon, the versatile team was posting two fitness workouts and one makeup session per week in both English and Spanish. 
"The virus drove everyone to new goals and a different perspective in life…It taught us how vulnerable we are as human beings, as families, and as a society," Rivera said.  "We are looking forward to safe and protected opportunities for everyone to get back on the dance floor."
Another staple couple at USA Dance competitions are Vincent Zhang and Daisy Howlind of VE Dance, a dance-apparel business home-based in Ypsilanti, Michigan.  Most competitors are used to seeing this team hard at work onsite selling everything dance-related, to include:  performance-ready ballroom gowns, suits, practice clothes, shoes, and accessories.  The business caters its calendar, products, and services to USA Dance amateurs.  However, their special focus is collegiate dancers. 
Unlike most, VE Dance was forewarned about COVID-19.  "We had the benefit of insider luck," said Zhang.  "Our last competition was Atlanta, Georgia, right before the Chinese New Year."  At that time, his parents were locked down in Beijing, China, and were keeping him informed about the pandemic. "We saw it coming!"
Zhang, a cancer-survivor, who could not risk catching the virus, knew they would have to withdraw from upcoming events.  Even before events were announced, they cancelled their travel and began to push the online store to cater to their all-important customers.  
In the meantime, also a licensed real estate agent, Zhang turned his business focus to the stable real estate world that kept the couple afloat.  To save money, they handily worked their own renovations and remodeling to improve their sales.  "I'm very proud of my carpentry work," he said.  "Daisy is the painter." 
"A lot of (ballroom) vendors had to go another route or quit,"  Zhang said.   "But we own our store, we own our building, and we have tenants."  He also owns his own marketing-and-sales technology, which he is planning to perfect and sell in 2021.  
As the nation starts recovering from the pandemic, Zhang believes, "People will be hesitant, and slowly ease back into ballroom and travel."  He plans to stay connected, but suggested that the future vending area may be different.  "We might have lost some people due to the duration of the pandemic."  However, he was quick to note, "New people will come…There will be collegiate recruits.  Wait until the studios are back open."
Marie Crowder offered a glimmer of optimism.  "Perhaps the interest in ballroom dancing will actually increase as people are finally allowed to engage in social and sporting activities, because everyone is so tired of staying home and doing nothing."  Sometimes the bad endings are only there to disguise the new beginnings.
With the Pandemic putting dance competitions on hold, the virtual events may present the only opportunity for some dancers to show off their skills.  USA Dance DanceSport Vice President Katrina Volgina and USA Dance Professional Vice President Vladimir Karpov led the way with a virtual USA Dance competition, January 23.
The format of the Atlanta DanceSport Cup Virtual Edition was convenient and inexpensive for the dancers and the organizers.  The competitors chose a song from a list of approved music for every style and dance, made a video of their dancing, uploaded it to YouTube and filled out an online submission form.  The judges reviewed the videos, provided the scores (from 0 to 100), and sometimes commented to the participants.  The couple that received the highest score in their category was declared the winner.  
Such a format, although certainly convenient, was quite different from a live event.  Although the dancers were not allowed to edit their videos, recording several times and choosing the best video for the submission was permitted.  During live events, the competitors are usually not given a second chance, nor do they have the luxury of having the floor completely to themselves or taking breaks between dances.  When confronted about such discrepancies, Volgina responded that the overall level and quality of one's dancing will not change significantly even when all these factors are considered.  Besides, since everyone is allowed to show their best, and the judges have enough time to review all the details, such a format may actually turn out to be more objective. 
One would have hoped that the participation in this USA dance virtual event would have been better given the scarcity of live events and the uncertainty of the near future.  Volgina admitted, however, that the low number of registered competitors for this event was likely due to the lack of broad advertising, rather than the lack of enthusiasm across the dancing community.  She believed, if such events are held in the future, they will need to be better advertised and promoted. 
Although virtual events cannot replace the thrill of a real competition, they certainly present an interesting option during difficult times, and have definite advantages.  They allow the dancers to compete against couples around the world from the comfort of their home studio, and spare them the travel expenses.  Virtual events also provide the opportunity for the organizers to easily contract with World-class adjudicators from around the globe, which makes this even more attractive for the competitors. 
Whether or not dancers choose to embrace virtual events in any form or shape, one thing is clear:  Our world is changing, and our competitive experience will likely change as well.
Like this page? Share it with your friends.