Social Chapters Show the Way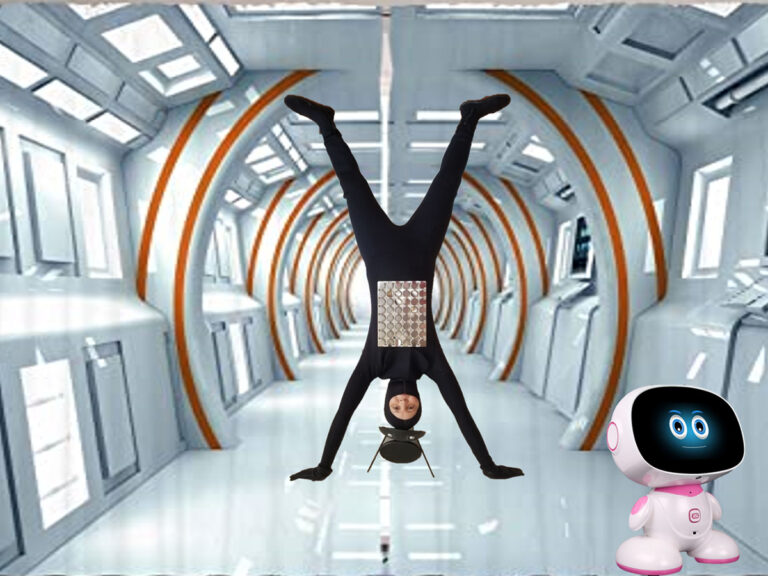 Anna Kovalyova of the Heartland Chapter in Astronauts and Aliens
"Necessity is the Mother of Invention."  In the days of Covid-19, social dancing at the monthly dances hosted by many USA Dance chapters could be a classic "super spreader" event.  The risk for seniors makes the health danger quite real.  Even in states that currently allow dancing events, such as Florida, South Carolina, and Indiana, social dance members are quite hesitant to dance in public, especially in indoor spaces.
American Dancer interviewed chapter leaders of seventeen USA Dance Chapters, representing 10 of the 11 districts.  The goal was to get a sense of what social dancers were doing, and to collect some bright ideas for dealing with the 2020-2021 pandemic.  This article presents a summary of many of those ideas, some of which may become an inspiration for other chapters.  Not all involve dancing.  Many support the emotional and financial health of the dance community.  Overall, it is clear that USA Dance chapters recognize dancing as a community of dancers, instructors, and businesses with a shared passion.  We all depend on each other.
Many USA Dance chapters are providing financial support to dance studios, instructors, and dance venues, so that these resources are not lost to the pandemic.  The most popular approach for individual dancers is to prepay studios and instructors for future dance lessons.  Some customers pay their teachers for lessons not taken.  Some chapters make substantial food shelf donations with their reserve funds in response to local need. Chapter 6021 in Charleston SC asked its membership for funds for maintenance and upgrades to its chapter facility and received approximately $8,000.  These are all examples of dancers being very generous during hard times.
A common activity is to use on-line (electronic) tools to continue some form of dancing.  The first tactic is on-line "Zoom" lessons.  Five of the interviewed chapters do this.  The story from Charlottesville VA (Chapter 6044, see sidebar) illustrates this well, including bright ideas for supplementing payment to the instructor using tipping by PayPal and creating a YouTube channel with recordings of Zoom classes for later viewing and review.  Their typical Zoom class has 20 to 45 people, and their YouTube channel has had over 500 hits since setting it up in August.  Some professional instructors conduct on-line Zoom lessons.  If the groups are small, the teacher provides direct feedback to individual students, much as they would in the studio.  Other chapters have social-only meetings in order to provide emotional support during trying times, including a costume party held by the Heartland Chapter 2022 (Greater Indianapolis, see sidebar).  These are typically smaller, four to 12 people, and some meet as often as once a week.  
Of the 17 chapters interviewed, four of them have conducted indoor live dances.  These occurred in the summer or fall when local regulations allowed.  They all had limited numbers of dancers per event, typically between eight and 16.  Chapter 6026, Daytona Beach responded to members' requests and had a dance for 30 people on a 4,000-square-foot floor with table-seating capacity that allowed for a well-distanced crowd.  The Charleston SC Chapter held their event over a two-day period to accommodate the pent-up demand for social dancing.  Dancers limited themselves to a single partner or two, and masks were usually worn when not dancing.  Mask wearing while dancing varies by individual. 
In some cases, a single dancer hires a teacher for the evening (typically about $50/hr.) and may share the teacher with another dancer or two.  This idea may have been frowned on pre-pandemic but accomplishes several things during the pandemic.  It meets a real need for unmatched females and helps the instructor at a time of financial duress.  Perhaps this practice may continue post-pandemic.
MASSabda, Chapter 3002 in the Greater Boston area has coupled non-profit gift giving to joining USA Dance, meeting two needs at once.  They commit a $10 gift to the local food shelf for each new membership or renewal.  Nor-Cal, Chapter 4004, Greater San Francisco, inspired by this idea, is donating $10 for each chapter member as of a fixed date in the future, also trying to encourage USA Dance membership.
The Orlando Chapter, 6002, has been doing outdoor dance shows for many years for local entertainment, service, and market visibility for ballroom dancing.  The pandemic has not stopped this activity.  In addition, they gifted significant funds to local studios, instructors, and collegiate competition awards (see sidebar story).
By far, the most common action for dancers is waiting for a vaccine.  There are many stories suggesting there is a lot of pent-up demand for dancing again.  Many anticipate dances will be energized and large when people feel it is safe to dance again.  But this may not happen suddenly.  When asked to estimate a return to normalcy for chapter dances, the estimates range from May 2021 to early 2022.  This suggests that the sense of safety could range greatly from person to person and area to area.
While chapters wait for regular dancing events to return, there is an opportunity to make plans.  Here are two ideas collected during the interviews:
Plan special "return to normal" events, such as themed dances, a black-tie gala, or an evening of showcase dances and social dancing. These may improve dance attendance.  With pent-up demand for dancing in 2021 or 2022, organizers might even need a larger space for such an event.  These events may also inspire sponsorship donations that may cover chapter expenses for the rest of the calendar year.
Competitions, even smaller ones, are a good way to keep or increase membership count. Simply include the USA Dance membership fee in the sign-up fee for non-members and submit their membership form for them.  These new members will likely lead to more participation and energy in future social activities. 
While the pandemic has significantly impacted opportunities to dance, especially social dancing, it has given dancers a strong appreciation for what they once had.  When the restrictions are lifted, they will, more than ever, appreciate the human connection of moving to music together in a social environment.  Hopefully, the summer of 2021 will be quite different from the summer of 2020.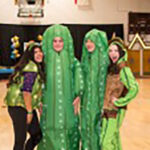 2020 has been a challenging year!  Living in California, and more specifically living in LA County, we have undergone some of the strictest guidelines in the United States.  We were forced to cancel our 16th Annual High Desert Dance Classic event one week prior to our March 2020 event.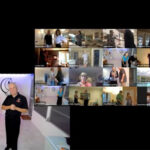 Southwest Florida Chapter
As the COVID-19 pandemic came upon us and the national shut-down occurred in March, we in Southwest Florida USA Dance quickly made the decision to begin dance lessons by Zoom.  Being a new endeavor for us, our instructors rose to the occasion and obtained the proper equipment to make this happen.
Heartland USA Dance (Chapter #2022, Indianapolis) eagerly entered the new year of 2020 with dance themes in hand and good times in mind. And its best-laid plans played out…for a couple of months. Then the virus hit, the Heartland Hiatus started, and Hoosiers hunkered down for months.
The Orlando Florida Chapter #6002 has been a large active social chapter since 1991.
Before the pandemic, 150 to 200 dancers attended their monthly social dances. Check
out these YouTube videos from 2018 and 2020 to see the wide range of dancers, musical selections, and joy at their dances:
ht
t
ps
:
/
/
yout
u.
be/
pbt
dbP9gQ
O
A
and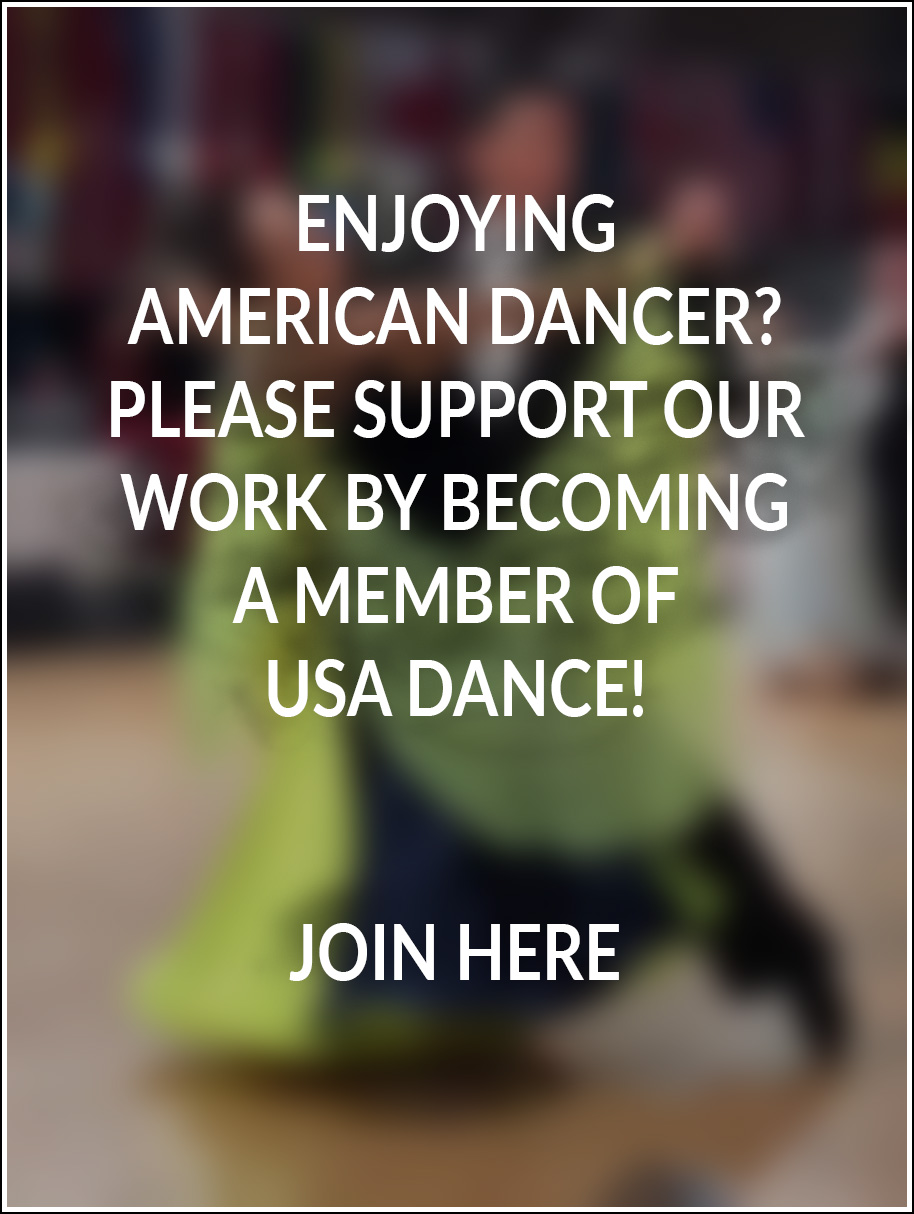 Like this page? Share it with your friends.