Constance Townsend - National Secretary 1978-1995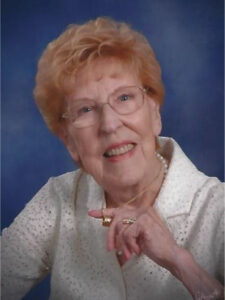 Constance (Connie) Townsend, age 99, of Ft. Myers FL passed away on October 26, 2020. She had a good life with more joy than sorrow, always surrounded by family and friends. She enjoyed much love, laughter and, of course, dance.
Connie met Fred Pat Townsend and they married in November 1975. Connie loved to dance and like many in her day, did a great Jitterbug in her teens. As years passed that joy of dance transitioned to a passion for ballroom dance. Pat loved ballroom dance as well and together they took lessons, danced regularly at their local studio and enjoyed competing for many years. Ballroom dance was a huge part of their lives and they had a wide circle of friends who shared their passion.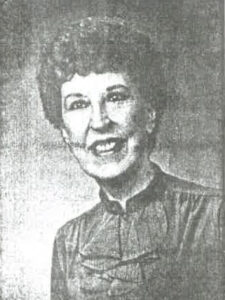 In November of 1978 a group of dancers formed a USABDA (former name of USA Dance) Mid-Eastern chapter that included Philadelphia, Baltimore, and the Washington D.C. area. Elected at that November meeting to the position of Secretary was Connie Townsend, a position she would serve until 1995. This chapter formation was considered by many to be the rebirth of USABDA which had been earlier formed in 1965.
Connie was actively involved in the revitalized organization, volunteering much of her time to helping in the growth of new chapters and membership across the country. She was the organizer for the first ever USABDA National Championship as well as three subsequent events.  Connie was also actively involved in organizing an Affair of the Heart ballroom competition / charity and several others as well.
She was dancing at the independent living facility where she lived when she lost her balance and fell resulting in a pelvic fracture in February of 2020. All the staff at the hospital were amazed she was still dancing at 99. Unfortunately, Connie had another fall with a leg fracture in October and just didn't have the strength to overcome that one.
Memorial donations may be made to Hope Hospice at hopehospice.org or USA Dance at usadance.org.
Ray Kaufman - Lifetime Member of USA Dance
It is with great sadness that the Mid-Eastern Chapter announces the passing of USA Dance Lifetime Member Ray Kaufman of McLean, VA on Thursday, December 3, 2020.  Ray was 94.  
A member of USA Dance since 1978, Ray devoted much of his life to promoting dance as a competitor and committed volunteer.
He and his late wife, Paula Kaufman, competed for many years, and she served on the Mid-Eastern Chapter board of directors from 1996-2000.  When Paula passed away, Ray sponsored, in her memory, a DanceSport scholarship that was presented at the Mid-Atlantic Championships and later at the USA Dance National DanceSport Championships.
Ray's volunteer work focused largely in the area of DanceSport.  He was active with his chapter, and also worked at the national-level.
He served on a special joint committee of USABDA and NDCA to establish and clarify rules allowing professional dancers the opportunity to regain amateur status.  From 1996-2015, Ray served on the National DanceSport Council, and worked on the USA Dance Rules Committee and Eligibility Committee. 
Many DanceSport athletes remember Ray as the Official Observer at USA Dance DanceSport competitions, where he noted infractions that needed to be corrected to meet organizational competition requirements.  He was fair, effective, and always did what he felt was best for USA Dance and its dancers.
For his special achievements and contributions to USA Dance, Ray was named the 2016 Lifetime Member Honoree.  He was loved and will be deeply missed by all.
In lieu of flowers, donations may be made to Congregation Beth El. Services entrusted to Sagel Bloomfield Danzansky Goldberg Funeral Care. www.sagelbloomfield.com